Product Description
Product Description
We can supply Jaw coupling, PF coupling, MC/MCT coupling, KX/KXT coupling, F-FLEXBLE coupling, HRC coupling, Chain coupling, NM coupling, MH coupling, Adjustble spacer coupling, Fenaflex coupling, Shaft coupling, Rigid coupling, Pin coupling.
With top quality, competitive price and prompt delivery, welcome your inquiry, thank you!
Product Attribute
| | |
| --- | --- |
| After-sales Service | Yes |
| Warranty | 1 Year |
| Connection | Press Connection |
| Structure | Roller Chain |
| Flexible or Rigid | Flexible |
| Material | Carbon Steel |
| Standard | Standard |
| port | ZheJiang   |
| payment | L/C, T/T |
| package | Polywood Case |
Detailed Photos
Product Parameters
Our Advantages
Company advantages:
Own Import & Export License, The TV trade mark registered successfully in many countries, Sales network spread all over China, Products export to 65 countries in 5 continents.
Membership:
1. The member of China General Machine Components Industry Association.
2. The member of China Chain Transmission Association.
3. The member of China Chain Standardization Association.
4. The member of China Agricultural Association Machinery Manufacturers.
With our excellent trained staffs and workers, advanced and efficient equipments, completely sales network, strict QA systems. You are confidence that our premium qualified chain can meet all customers' specification and strictest quality standards.
WHY CHOOSE US
Comprehensive Product Portfolio We produce and supply a wide range of power transmission
products including drive chains, leaf chains, conveyor chains, agricultural chains, sprockets, and
couplings. This one-store-for-all shopping experience will significantly reduce your searching costs while
guarantee youfind what you want at 1 click.
Value Choice Products Our products are the best combination of quality and price, and you get what
you want within your budgets
Seasoned Sales Associates and Engineers We have 15 seasoned sales associates and 5 engineers;
on our team at your disposal any time when you need a helping hand. They are well trained with industry
know-now and will always respond to your requests within 24 hours.
100% Customer Retention Rate Our regular customers from overseas come back not just for our
premium quality products, but for the superior services that we've provided over the years.
FAQ
Q1: What's your average lead time?
A: It varies. Our regular end-to-end lead time is 1-2 months.. We also provide express shipments for rush orders. For details,please consult our sales associate.
Q2: Is your price better than your competitors given the same quality?
A: Definitely YES. We provide the most competitive price in the power transmission industry. If price disparity exists, we'll be more than happy to do a price match.
Q3: Can you make chains according to my CAD drawings?
A: Yes. Besides the regular standard chains, we produce non-standard and custom-design products to meet the specific technical requirements. In reality, a sizable portion of our production capacity is assigned to make non-standard products.
Q4: Can we inspect the goods before shipment?
A: Yes. You or your representative or any third-party inspection party assigned is allowed access to our facility and do the inspection.
Q5: What kind of payment method is acceptable for your mill?
A: We're flexible. We take T/T, L/C, or any other online payment methods so long as it's applicable for you.
Q6: What if I have any other questions?
A: Whenever in doubt, you're always encouraged to consult our sales associate any time – They will help you to your satisfaction.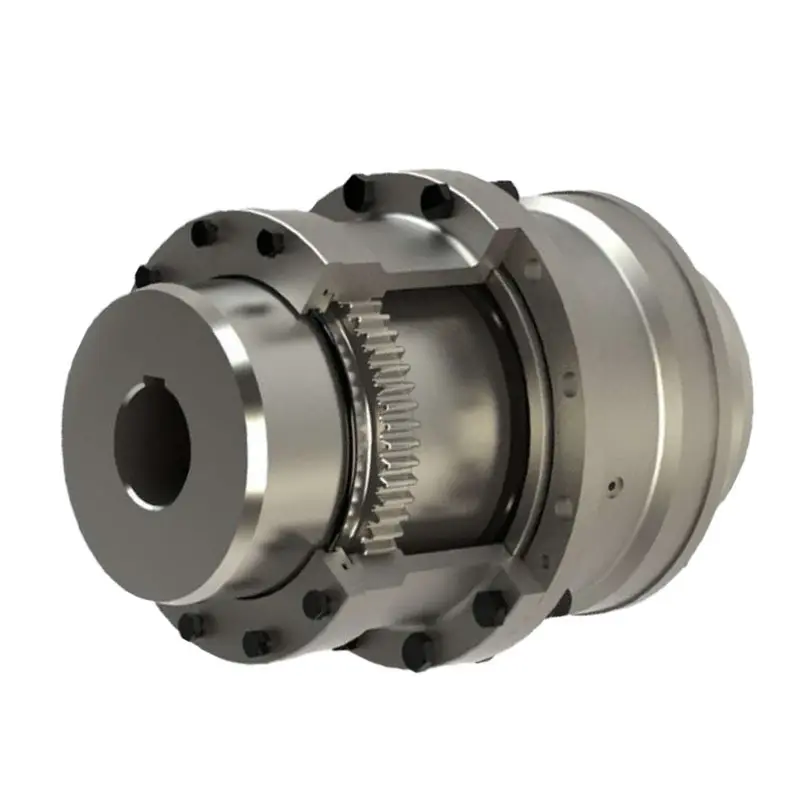 How Does a Gear Coupling Handle Angular, Parallel, and Axial Misalignment?
Gear couplings are designed to handle various types of misalignment, including angular, parallel, and axial misalignment. Here's how they handle each type:
Angular Misalignment: Angular misalignment occurs when the two connected shafts are not collinear and form an angle with each other. Gear couplings can accommodate angular misalignment due to the flexibility of their gear teeth. The gear teeth allow a slight angular movement between the shafts without causing significant stress on the coupling.
Parallel Misalignment: Parallel misalignment occurs when the two connected shafts are offset along their axis but remain parallel to each other. Gear couplings can handle parallel misalignment to some extent due to the slight axial movement allowed by the gear teeth. However, for larger parallel misalignments, special gear couplings with spacer elements or other features may be required.
Axial Misalignment: Axial misalignment occurs when the two connected shafts are not in the same axial plane and have an offset along their length. Gear couplings can handle a certain degree of axial misalignment because the gear teeth can accommodate small axial movements without causing damage to the coupling or connected equipment.
The ability of gear couplings to handle misalignment is one of their key advantages over other types of couplings. The gear teeth act as flexible elements that can compensate for minor misalignments, reducing the stress and wear on the coupling and the connected equipment. However, it is essential to ensure that the misalignment remains within the allowable limits specified by the coupling manufacturer to maintain optimal performance and reliability.



editor by CX 2023-09-04