Product Description
Nylon Sleeve Gear Coupling
 
Curved-tooth Coupling / Coupling BoWex
 Ubet Nylon Sleeve Couplings flexible shaft connections for a positive torque transmission and specifically suitable to compensate for axial,  radial and angular shaft misalignment.
Ubet Nylon Sleeve Couplings are compact and require no lubrication.  They are adapted to many applications including vertical and blind installations. They operate over a wide range of temperature at speed up to 5,000 RPM.  This type of coupling is widely used in application such as Motor, Generator and Pump etc.
 
Features:
l  Nylon-steel combined, maintenance free
l  Compensation for axial, radial and angular misalignment
l  Convenient axial plugging assembly
l  Without bolts, pins, flanges to affect balance or safety
l  No requirement of lubrication
l  Excellent electrical insulation
l  Can be vertically or horizontally assembled
l  Tolerance of finished bore in appliance with ISOH7
 
| | | | | |
| --- | --- | --- | --- | --- |
| l  tem No. | l  Item No. | l  Finished bore range | l  Outside Diameter | l  Nominal Torque Nm |
| l  UTNL-14 | l  UTNL-14-L | l  6-14 | l  40 | l  10 |
| l  UTNL-19 | l  UTNL-19-L | l  8-19 | l  48 | l  16 |
| l  UTNL-24 | l  UTNL-24-L | l  10-24 | l  52 | l  20 |
| l  UTNL-28 | l  UTNL-28-L | l  10-28 | l  66 | l  45 |
| l  UTNL-32 | l  UTNL-32-L | l  12-32 | l  76 | l  60 |
| l  UTNL-38 | l  UTNL-38-L | l  14-38 | l  83 | l  80 |
| l  UTNL-42 | l  UTNL-42-L | l  20-42 | l  95 | l  100 |
| l  UTNL-48 | l  UTNL-48-L | l  20-48 | l  114 | l  140 |
| l  UTNL-55 | l  UTNL-55-L | l  25-55 | l  132 | l  240 |
| l  UTNL-65 | l  UTNL-65-L | l  25-65 | l  175 | l  380 |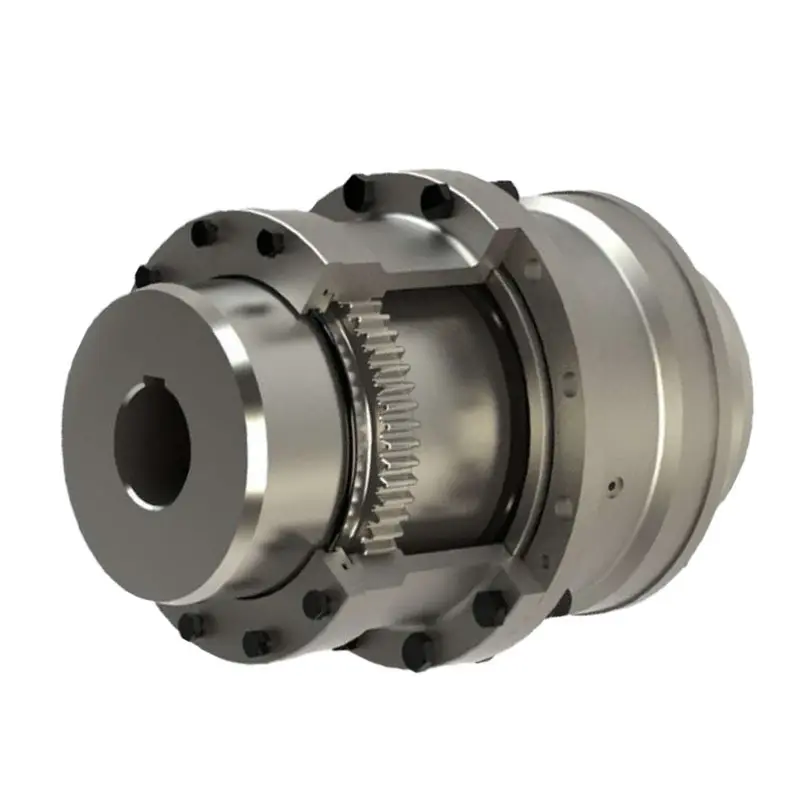 Handling Misalignment with Gear Couplings
Gear couplings are designed to accommodate certain degrees of misalignment between shafts, making them suitable for applications where some flexibility is required. They can handle three main types of misalignment:
Angular Misalignment: This type of misalignment occurs when the axes of the two connected shafts are not parallel but intersect at a small angle. Gear couplings can handle a moderate amount of angular misalignment, typically up to a few degrees, without sacrificing performance.
Parallel Misalignment: Parallel misalignment refers to a situation where the two connected shafts are offset in parallel but remain parallel to each other. Gear couplings can accommodate a certain amount of parallel misalignment, but it is generally limited to a fraction of the coupling's overall length.
Axial Misalignment: Axial misalignment happens when the two shafts are offset along the axis of rotation. Gear couplings can handle limited axial misalignment, but it is essential to ensure that the coupling's end float or end-play is correctly set to prevent axial loading on connected equipment.
It is important to note that while gear couplings can handle some degree of misalignment, excessive misalignment can lead to premature wear and failure. Regular maintenance and proper installation are crucial to ensuring that gear couplings perform optimally and have a longer service life.



editor by CX 2023-09-12